MT VIALE SV Phantom C3 Matt Flour Yellow Helmet

Description
Product description MT Helmets Viale SV Phantom Open Face Helmet
Viale is the new demi Jet helmet by MT Helmet with a clean line, perfect in the city thanks to the integrated sun visor and the long transparent visor, making it a perfect helmet for everyday use. Complete with practical removable interior and washbasins and comfortable micrometric closure.
Features:
– Two outer shell sizes
– The HIRP material (impact-resistant polymer) is formulated from a polymer injected into very precise blocks to provide better properties such as lightness and impact resistance.
– Removable and washable hypoallergenic interior
– Transparent Visor MT-V-26
– Internal retractable sun visor
– Strap with micrometric retention mechanism
– ECE approval 22.05 / DOT
Specifications:
– Weight: 1050gr + -50gr small cap / 1100gr + -50gr large cap.
Related products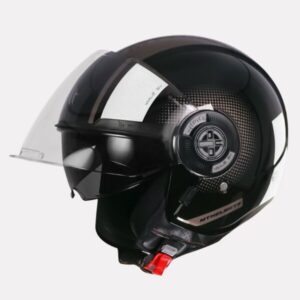 Out of stock