ProSpec Easy Ride Clip-on Windshield Extender for Triumph Tiger 850/900 – ER 720
*Cash Back upto 500 Rs. for shopping of minimum 3000 Rs. on Simpl
Or 3 interest free payments of ₹816.68 with
Kindly contact us at +91-7697258886, +91-7869912321 to confirm availability before placing order
Only 2 left in stock (can be backordered)

Finance Facility Available. For any assistance contact us
Description
Part No: ER 720
ProSpec Easy Ride Clip-on Windshield Extender for Triumph Tiger 850/900
ProSpec windscreen extender is a two position adjustable to ensure added riding comfort.
This is Profile R3C which is Universal, fits to maximum bikes.
Adjustable motorcycle windshield, fixed on the top of original windshield, heightening for better head protection for riders.

Easy assembly and disassembly

The wind protection can be significantly better and faster driving noise can be minimized. More comfortable and more relaxed traveling even on faster stretches!
Spares also available if any problem there…
Still, confused about the need for an extension? The answer is, you will be allowed to ride without arm strain by reducing the wind blast.
Note: Some parts are pre-assembled, though ProSpec performance parts are designed for DIY installation is it is recommended you have the spoiler installed by a technician if you face difficulty.
Extender to be cleaned using water, neutral soap and sponge or microfiber cloth.Never wipe using dry cloth or use solvent as they may scratch or damage the surface texture
Note: For windscreen thickness 3 –5 mm
Products in packing
Screen – 1 pcs
2 Position adjuster mechanism (set)
Clip on mount (set) – 1 pcs
Front Cap – 2 pcs
Type B Philips head screwM6 x 10 – 4 nos.
Philips head screwM6 X 15 – 2 nos.
Mounting instruction for clip mount windscreen extender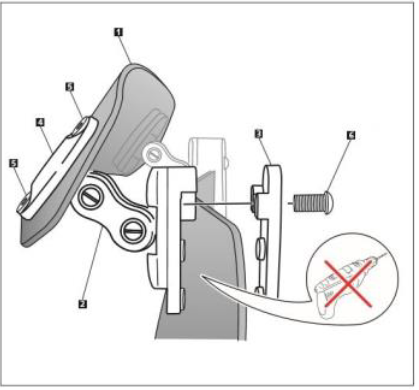 Please follow the instruction carefully to ensure the desired benefit of the extender
Unscrew the two numbers of Sl no 6 screws and unclamp the back plate of Sl 3 clamp, position the extender symmetrically and reverse the procedure.
Cash On Delivery
COD conditions: Place your order selecting Offline Payment mode then pay ₹1000/- advance for COD order confirmation through UPI / Credit Card / Debit Card by contacting our sales team at +91-7697258886 / 7869912321.
Extra Charges for COD Service will be applicable as charged by Shipping partner (Minimum 200 Rs or 3% of the bill amount).
Bill amount should be minimum 3000 Rs. to process COD order.
Related products