MT Blade 2SV Finish Line Motorcycle Helmet Fluorescent Red

Description
MT Blade 2SV Finish Line Motorcycle Helmet Fluorescent Red
Designed to be in perfect sync with the rider, the machine and the surroundings, The aerodynamic Plus provides you with a pleasant touring experience. Its prowess in safety, comfort and styling provide you enough confidence to munch miles all along your journey with ease.
Features: 
Shell
High Impact Resistant Polymer (HIRP)
HIRP is an improved formulation of polymers injected in very precise blocks, improving impact resistance at a lower weight.
Inner shell with hi-impact absorption, the helmet surrounds your head with a set of materials designed to absorb and cushion the force of impact from an accident.
First in class dual density EPS for better impact absorption.
Sleek and aerodynamic shell with a premium design and integrated split-wing spoilers.
Specially designed ventilation system to maximize airflow and to always keep the rider fatigue free.
Safety 
DOT (US)
ECE R-22.05 (EU)
ISI 2015 (India)
SHARP 4 star rated (UK)
Micrometric buckle closure system Retention system designed to create greater riding comfort ideal for road and urban helmets.
Visor 
Max vision pinlock ready visor and additionally available anti fog inserts that provide clear vision during the rain or foggy weather.
Comes with Internal Sun Visor
Equipped with MT's QRS,( quick release system ) it facilitates the easy removal and attachment of the visor.
Optical polycarbonate anti-scratch visor the flexibility and strength of polycarbonate ensures optimum safety and the optical factor allows higher levels of light transmission. The anti-fog treatment ensures clean and safe vision. All our visors are 2.2 mm thick.
Visor models have an innovative locking system. Once the visor is closed, the lock ensures an optimal seal against wind and water at every closure. Pressing the lock button will release the visor to its first opening position automatically.
Interior
Air inputs to obtain an effective vent, it is imperative air is actually entering in the helmet. MT Helmets uses high tech air permeable linings on its high range helmets.
Air outputs to obtain an optimum vent, the most important characteristic to take into consideration are the air extraction on the helmet rear area. The extractor allows the creation of an air flow through the helmet to evacuate the inner heat.
Quick vents activation the main advantage of this device is its easy handling with or without gloves. The user doesn't need to look for a small lever on the helmet to operate the air control and therefore can focus his attention on driving, which allows higher security.
Made of hypo allergenic and wicking fabric that absorbs and dissipates the sweat from the skin to keep the rider comfortable.
Laser cut fabric for the ultimate fit.
Removable and washable liners that allow you to keep your helmet clean and fresh
Speaker pockets that facilitate third part Bluetooth system.
Weight 
Coming in at just 1450(+/-50) grams, its weight is well distributed for the tourer.
* Color of the actual product may vary from the images shown.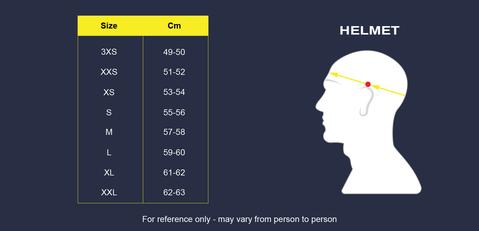 Warranty Policy
PSI offers warranty on most products against manufacturing defects. Warranty period will be considered from the date of purchase by the customer. Helmets carry a warranty of 2 years against manufacturing defects only.
Warranty Terms & Conditions: 
The claim must be accompanied with the warranty card and the purchase receipt from our authorized dealer or reseller.
Products purchased from sellers other than our authorized dealers will not be eligible for warranty.
Products purchased under discounts or offers are not covered under warranty.
Warranty is limited to either repair or replacement of the product. PSI will be the deciding authority on the course of action.
Customer must be ship the product to our Chennai office. PSI will inspect the product and approve or reject the claim.
Product will be shipped back to the customer free of cost.
Once the claim is approved, the product will be repaired or replaced based on the availability of spares and products. PSI cannot be held liable for non-availability of spares or products.
Color of the spares used in case of a repair might not completely match that of the original product color.
If the particular product had been discontinued, PSI will send an equivalent model to the customer. Under no circumstance a refund will be made.
Any replacement done during the warranty period will not extend the warranty of the product.
Warranty cannot be claimed under following circumstances:
Wear and tear due to regular usage.
Damage caused by an accident or a fall.
Physical damage to the helmet by dropping it or by any other mishandling.
Color fading due to usage or exposure to sun. High viz colors are likely to fade faster on sun exposure.
Problems occurring due to lack of maintenance.
Usage under atypical conditions.
Any modifications or customizations to the helmet will void its warranty.
Use of paint, adhesives, glue, screws, etc will also make the warranty void.
Application of chemicals that could harm the product.
Scratches or marks occurring due to usage.
Scratches and marks on the visor.
Color chipping on the EPS.
Rider experiencing subjective issues like fit, comfort, noise, aerodynamics, etc are not covered under warranty.
Helmet accessories like cheek pads, chin curtains, pinlock, etc. are not covered under warranty.
PSI cannot be held liable for any cosmetic damage the product may have while purchasing. Customers are advised to check the product thoroughly before purchasing.